Country singer Gary Allan released his broken-hearted tune "Life Ain't Always Beautiful" more than a decade ago now, long before the lyrics would turn out to mean the world to Katelyn Driscoll.
"Life ain't always beautiful, sometimes it's just plain hard. Life can knock you down, it can break your heart."
Go ahead. I dare ya. Pop on that song within earshot of the outside hitter for the Oregon State volleyball team and there's a good likelihood she'll finish the rest of the words for you. Not with tears that would make any country singer proud, but with an ear-to-ear smile completely at odds with the song's initial few lyrics.
"You think you're on your way, and it's just a dead-end road at the end of the day."
She's got her reasons though. Reasons why the song's so important to her. Why her smile's always there, despite life trying its level-best to knock her down, break her heart, all the while giving her perfect turn-by-turn directions to that dead-end road at day's end.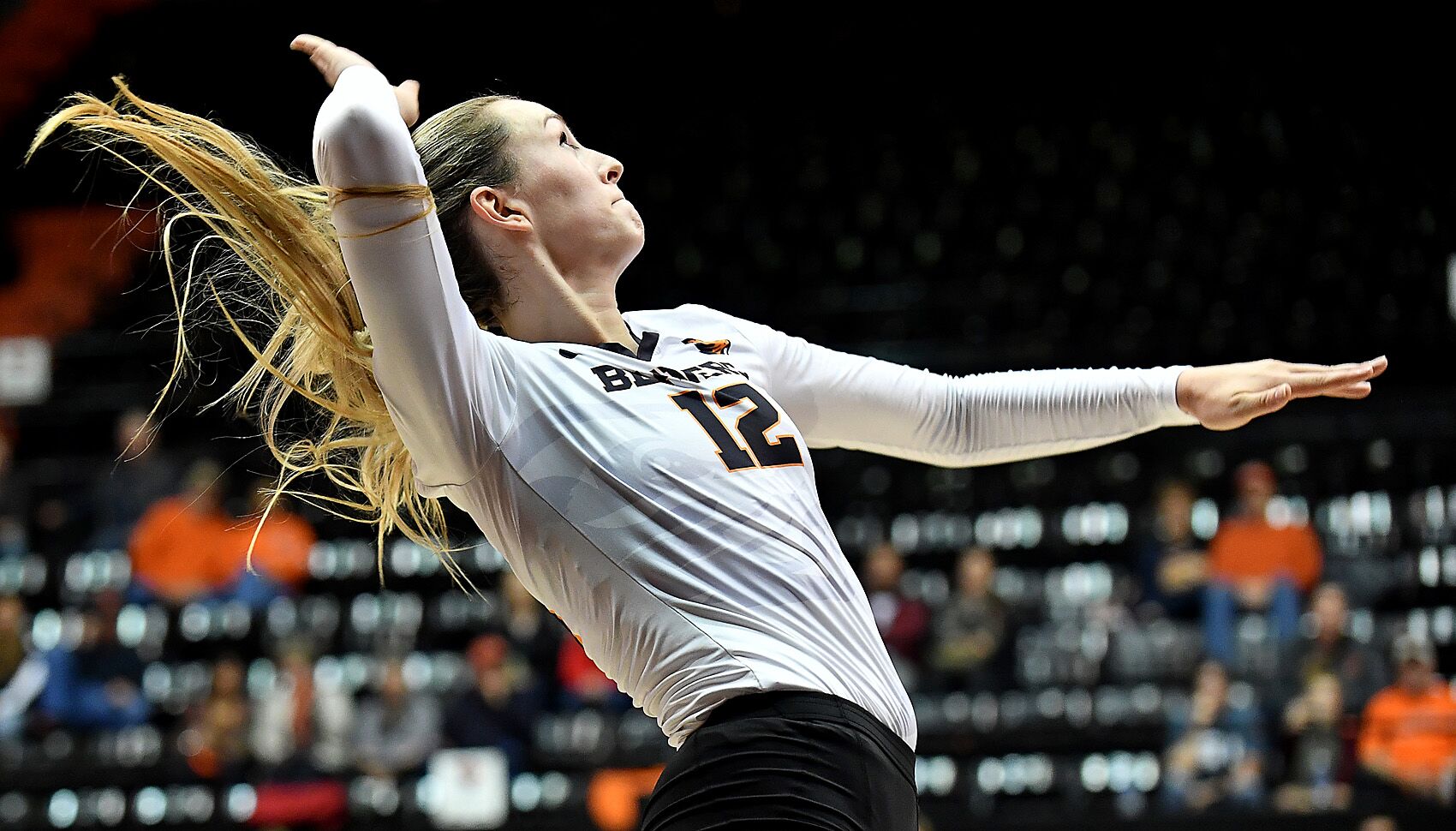 Driscoll is…a presence. Maybe that's the best way to put it. For starters, she's 6'5", which is reason enough. But no, that's not it. There's a vibrancy that surrounds her - in the tone of her voice (which can boom with excitement when she talks about her family, friends and teammates); in the laughter that's never more than a second away; and definitely in the gleam of her eyes – a gleam Gary Allan would be embarrassed to display during the singing of a sad country song.
"Three hundred houses in our neighborhood, everyone knew everyone," Katelyn says of her hometown of Littleton, Colorado. "Dinner at the neighbors. Trampolines. The dock at the waterside of a nearby lake. That's where I grew up."
It wasn't much of a surprise that she gravitated toward sports. Her father, Patrick, is in the mortgage industry, but used to lock arms as a professional rugby player with the Denver Barbarians. Her mother, Brenda, is an interior designer, but carries a sporting background of her own in cheerleading and, yes, volleyball.
Volleyball now makes perfect sense, in hindsight, but it was swimming that topped Katelyn's list back in the day. "Oh yeah, loved it," she says, her eyes lighting up. "I was a huge swimmer growing up."
She was pretty much huge with most sports – long as it meant being around friends. Ask Patrick and Brenda how much those friends meant to their daughter and you'll probably find "the world" tucked right in the first sentence of their answer. Driscoll herself admits she can be a little overprotective when it comes to family and friends.
Kind of explains why, when a friend pushed her to try-out for volleyball, she agreed without blinking an eye. It was only a matter of time, right? After all, her mother played the game. But the other reason volleyball (often called the sport that men invented, but women perfected) now made total sense was that Katelyn's 5'6" was on a steady path to 6' and eventually on to 6'5". Plus it didn't hurt that she took to the game in a heartbeat from a standpoint of both skill and desire. Asked if she agrees with that scouting report, Driscoll shrugs and says, "I was tall. I could hit the ball."
Story continues below...