Taylor Lemmond had finally gotten around to asking the question – the one that every player on the Oregon State women's soccer team asked McKenzie Redberg when they couldn't resist any longer.
"Hey McKenzie?" the freshman forward leaned closer to her senior teammate during a recent road trip. "Sooo exactly how old are you again? I mean, like what year were you born?"
McKenzie, who is exactly…well, let's not ruin the surprise…offered the 17-year-old from Elk Grove, California a friendly, but reserved smile – being ex-military, after all. "I was born in 1990."
"1990 what?"
"No. Just…1990," Redberg answered, and then waited for it.
"Wow," Taylor replied, raising an eyebrow. "So the day I was born you were already eight years old! That…is crazy!"
Yep, thanks for that, thanks a lot. Truth be told though? McKenzie Redberg loves it. Loves the question; loves sitting next to a teammate on their way to a Division One soccer match; loves feeling the anticipation, the knowing, that tomorrow she'll play the one sport she loves more than any other. A sport, played at a level, she'd given up on only a few years ago.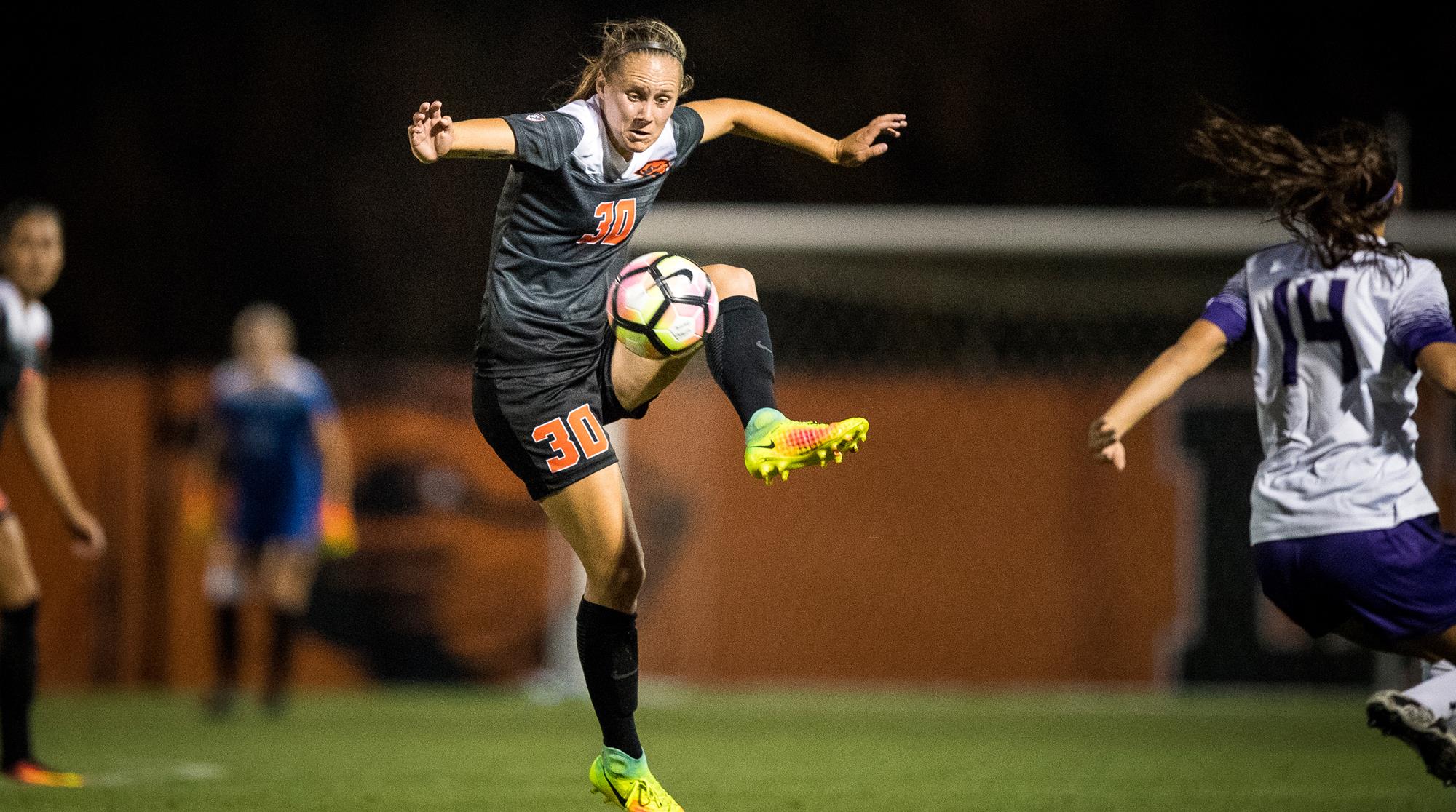 "What kind of kid was I?" She answers without hesitation, "Rambunctious, stubborn. My sister, my brother, we were always running around the woods, getting in all sorts of trouble."
The woods she's talking about aren't in some other state, they're not even in another part of Oregon. They're on the fringe of Corvallis, her hometown, where McKenzie was born back in…well, just ask Taylor Lemmond, she'll tell you. The Redbergs were a tightly-knit bunch - plenty of outdoor stuff, the occasional board game, like when McKenzie would play CandyLand with her kid sister and stack the deck so she could bust a path through the Molasses Swamp. "Whatever it took to win," she grins.
Saturdays in the fall were reserved for one thing, aside from a heavy dose of youth soccer: and that was Beaver football. McKenzie was at both of the home wins over USC, storming the field right there with everyone else. She recollects her first OSU soccer game too, and it's not like she's guessing when she says, "They played Hawaii. I was seven years old."
Soccer was already deep in her blood by then, same as it was for a lot of kids, but her love for the sport ratcheted to a higher level the afternoon of July 10th, 1999. The Redbergs had gone out that morning to pick a tub of raspberries, and nine-year-old McKenzie held it tightly, right there in her lap as she watched the U.S. Women's National Team win the World Cup – Brandi Chastain striking the final penalty kick, igniting millions of young girls' dreams in a single split second. "I made a decision right there," Redberg says. "I'm gonna play college soccer. That's what I'm gonna do."
But dreams sometimes have a habit of running into nasty luck. During the State Track Finals her senior year, she pulled a hamstring, triggering a year in her life that was a blur of uncertainty. Soccer was her passion, but there were no scholarship offers. So when the track coach at Western Oregon offered her a full-ride to join the team in Monmouth, she accepted. Not only that, her father, who had worked for Hewlett-Packard in Corvallis, took a new job in Arizona. And just like that, the tightly-knit Redbergs – dad, mom, siblings - were a little bit here, there and everywhere.
Story continues below...